Search Tools
Franchise Research
College Hunks Hauling Junk

Let Tomorrow's Leaders Haul Your Junk Today




Business Type
Franchise
Min Liquid Capital
$100,000
$100,000
*
Total Investment
$95,000 to $208,000
Required Net Worth
$200,000
Number of Units
156
In Business Since
2004
* For Current Info See:
Franchise Disclosure Document
Overview
Junk-removal is gaining massive popularity and is being recognized as an industry of its own, however, it is still extremely segmented, which makes it vital to have a cohesive brand and an established system to put you in a category above the other local providers. A highly fragmented industry where demand for professional service is high and supply is low is a recipe for a tremendous opportunity.

A College Hunks Hauling Junk franchise is an opportunity that…

Is an established and award-winning junk removal business with a vision toward national growth.

Is more focused on capturing both residential and commercial customers' attention and securing their loyalty than other concepts.

Gives you a low-cost, complete system for growing your business in a very hot industry that is still highly segmented.

Now you can operate your very own College Hunks Hauling Junk franchise providing greatly needed services to commercial and residential customers in your own community!

Our goal is to make College Hunks Hauling Junk a national household name and create a brand that stretches from coast to coast. Our system is geared to create a mutually beneficial relationship with all of our franchise partners.
Products & Services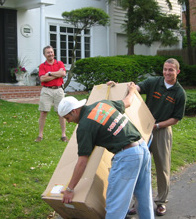 Our 3-Step Junk Removal process guarantees you have a perfect experience every time!

STEP 1: Have a Junk-Free Day:

A College Junk rep explains our volume-based pricing over the phone. Our prices include all labor, weight, and disposal fees. We'll help schedule an appointment time that is convenient for you.

STEP 2: Prompt and Friendly FREE Quotes:

We'll call you 20-30 minutes before arrival, and our uniformed team will be on time in one of our shiny orange and green trucks. The Junk Team Captain presents a price list before doing any work.

STEP 3: Kiss Your Junk Goodbye:

Just sit back and relax as we give it the Ol' College Try. We do ALL of the labor and loading no matter where your items are located! Everything is properly recycled, disposed of or donated. We even call you after the job to make sure you are 100% satisfied!
Training & Support
We'll provide the training you need to get your business up and running, from your start-up inventory package and truck design, to hiring and training your crews.

You'll receive the tools necessary to keep your business growing, including traditional and "street" marketing tactics and materials for both residential and commercial clients. Plus, we are fully dedicating to national and regional press coverage to solidify our brand awareness.

We have an info-packed website that allows customers to book appointments online. Our toll free number rings to our centralized Customer Loyalty Center to handle the bulk of the scheduling and follow-ups, saving you an incredible amount of time, money and resources to focus on more important management and sales activities.

Furthermore, our significant investment in our state-of-the-art customized proprietary software (JunkWARE™) allows you to stay organized and manage your customer contacts and truck schedules. And, we'll support you on an ongoing basis with the help of our established procedures documented in a detailed confidential operations manual, plus frequent assistance, training, and field visits to ensure your junk removal business is running in top form.
Why College Hunks Hauling Junk?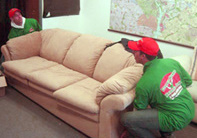 Our Brand



College Hunks Hauling Junk's marketing strategies won first place in three different categories at the 2007 American Marketing Association's M-Awards. The award-winning categories were Corporate Identity, Company Website, and Marketing Campaign on a Shoestring Budget. We were also nominated for our Direct-Email and PR for Profit Campaigns. Our name and phone number are both federally registered trademarks, protecting us from competition, and our name stands out as the most memorable and marketable in the industry. Now you can leverage our award-winning marketing strategies by joining our growing family of franchisees!



Customer Loyalty is our priority.


Most companies emphasize customer satisfaction, but we emphasize customer loyalty. That's why the majority of our commercial and residential business comes from word of mouth and repeat clients. Franchisees benefit from the credibility of an established, award-winning company that has completed large-scale clean-out projects for the federal government buildings of the U.S. Securities and Exchange Commission and for the US Department of Energy, as well as for commercial clients such as US Airways. Our trucks are custom designed for the job, and act as a moving billboard for increased presence, visibility, and name recognition in your exclusive territory. Franchisees employ a trained pool of insured collegiate teams that handle the labor and estimating. Available every day of the week all year round, our complete junk removal process ensures that customers have a perfect experience every time!

And we're the coolest and most reliable junk removal company around!
Our company significantly benefits from the fact that customers admire our trustworthy college theme. Over 70% of our customers have said that our name played a major roll in their decision to call us as opposed to our competition. The bright orange and green branded trucks elicit smiles, double-takes, and cheers whenever they drive by. We employ only the best and brightest, by targeting the local colleges and universities to hire some of the friendliest and most trustworthy junk haulers in the industry. Not your typical junk haulers, our uniformed College Hunks Hauling Junk crews arrive on time at customers' sites clean, well-groomed, and with their shirts tucked in. And, knowing that they are supporting our underlying goal to help students pay their way through school, customers tend to feel that awarding us their business is well worthwhile



The Growing Demand





"What are you gonna do with all that junk?"


The trend toward contracting outside services to take care of the growing need for cleaning out offices and homes is undeniable , and the media plays an important role in making people aware of the value of junk-hauling services. Network and cable television's most popular shows, including those on Discovery Channel, HGTV, TLC, and Oprah all feature segments and shows on cleaning and revamping the home or work space. Viewers learn that getting rid of junk is one of the key steps in adding value to a home and work space.



A Multitude of Clients and Needs


Everyone has junk, but not everyone has the time or resources to get rid of it themselves, and today's garbage companies aren't set-up to handle these specialty jobs professionally.



Benefits of the System



A highly marketable and federally protected name and phone number that creates immense word-of-mouth business

Award-winning marketing strategies and training you need along with a robust and confidential operations manual for every facet of the business to maximize growth in your exclusive territory

Hands-on start-up guidance at Junk University, and all the professionally developed marketing materials and equipment required to operate out of the gates

Cutting edge customized software (JunkWARE™) that is unique to the industry, a centralized call center, and an interactive and vivid website to handle all of your inbound sales and customer service tasks so you can focus on growing your fleet

Ongoing strategic support to help you identify, target and acquire new clients in your area.
Are You a Good Fit for College Hunks Hauling Junk?
We're looking for College Hunks Hauling Junk franchise owners who are outgoing and have sales, marketing, and/or management experience, and who are results oriented. A person who can "quarterback" a team and who has the motivation to excel in a fast paced environment. You must have a minimum of $65k in liquid capital, and be ready to make a full-time commitment or have the capital to support a full-time General Manager.

Becoming a College Hunks Hauling Junk fracnhisee doesn't mean you and your staff all have to be college students. But we do ask that you appreciate and support our overall mission, philosophy, and brand positioning – our experience shows that our customers certainly do! You should have a sense of humor when it comes to marketing, but you must be serious when it comes down to business.