Search Tools
Franchise Research
FocalPoint Coaching

Powered by Brian Tracy




Business Type
Franchise
Min Liquid Capital
$50,000
$50,000
*
Total Investment
$62,000 to $114,000
Required Net Worth
$200,000
Number of Units
126
In Business Since
1999
* For Current Info See:
Franchise Disclosure Document
Overview
Many successful business leaders are now choosing to use their vast experience to greater benefit through independent enterprise. In addition, individuals and executives are no longer willing to exchange their family lives and personal interests for the job. This increasing trend is directly satisfied by FocalPoint. Our franchise opportunity provides an expansive network our coaches can leverage as they operate a successful business as a FocalPoint Coach. As one of the few white-collar franchises, FocalPoint's structure ensures that franchisees receive exceptional training and the resources needed to be successful. FocalPoint provides an essential marketing, sales and client support system, which is constantly enhanced for relevance and impact.

FocalPoint provides each franchisee with exceptional marketing, training, support and development systems, along with industry leading knowledge and information that are transferred to clients via 48 weeks of coaching curriculum.

As a FocalPoint franchisee you have a significant advantage over traditional franchise models that require large upfront investment and start-up costs. The FocalPoint model requires no inventory and has low operational overhead, while obtaining premium margins for the service your franchise will provide to the clients. As well, the on-going royalties are fixed rather than a traditional percentage of revenues ensuring that success is never penalized and that all franchisees contribute to the systems and continued development of the franchise equally.

Lastly, our organization enjoys the market acceptance and brand recognition of Brian Tracy, which instantly establishes your credibility and distances you from those with lesser offerings.
Products & Services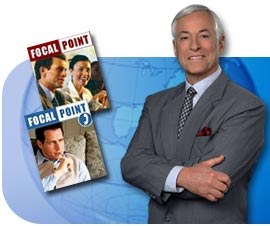 FocalPoint International, Inc., the world's premiere business coaching and development franchise company, has formed a ground-breaking strategic alliance with Brian Tracy International, Inc., that will provide organizations and individuals with proven concepts, methodologies and skills developed in the most effective manner, long-term one-on-one coaching.

FocalPoint™ International is powered by Brian Tracy International which, with distribution of literature in 18 languages throughout 30 countries, is one of the world's most prominent brands in business and professional development. Brian Tracy International's well-known brand and global distinction are of critical importance to FocalPoint franchisees because the association with such a strong brand immediately establishes credibility in the eyes of franchisees' clients. Our franchisees are in the unique position of being members of the only franchised organization involved in business coaching that enjoys the benefits of significant brand recognition.
Training & Support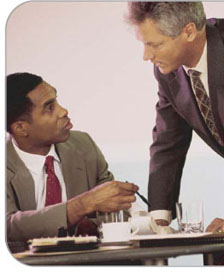 Induction Training During Induction Training, both Master and Business Coaching Franchisees use audio/visual and print resources provided by FocalPoint International to gain a good grounding in the key philosophical components of the FocalPoint franchise system, as well as the coaching methodology and content provided by Brian Tracy International. The Induction Training Program is designed to get franchisees warmed up and super-charged heading into the In-house Corporate Training Program.

In-House Corporate Training Program
The intensive In-House Corporate Training Program is designed to arm both Business Coaching and Master Franchisees with the necessary skills, methodologies and knowledge required to deliver Brian Tracy International's business coaching content with full fidelity to Brian Tracy's standards for quality and effectiveness. The In-House Corporate Training Program for Business Coaching Franchisees is attended by Master Franchsiees as well, enhancing their ability to assist their Business Coaching Franchisees in growing their businesses. The coaching training program is very intensive and of tremendous quality. Much of the training is role playing, preparing new Business Coaching Franchisees to "hit the ground running" once they complete training. In addition, and before attending business coaching In-House Corporate Training, Master Franchisees attend an intensive 4-day Master Franchisee In-House Corporate Training Program. This training program is designed to give new Master Franchisees the information and skill necessary to begin successfully recruiting Business Coaching Franchisees within their territories. Interestingly, other than providing for their own transportation to and from the FocalPoint corporate headquarters for either of the In-house Corporate Training Programs, all housing, meals and local transportation are provided for new franchisees in a totally first-class manner!

In-Field Post-Training Support
Master Franchisees receive a 12-week In-Field Post-Training Support Program and Business Coaching Franchisees receive a 6-week program. Both of these post-training programs are designed to ensure FocalPoint franchisees have the initial support to get their businesses running as quickly and successfully as possible. The In-Field Post-Training Support Program consists primarily of virtual training from FocalPoint operations and training personnel, sometimes one-on-one but often in virtual group training sessions. FocalPoint's objective for such extensive post-training support is to enable every FocalPoint franchisee to have the best opportunity to achieve business success.

The Master Mind Group
The Master Mind Group is a monthly conference call attended by all Master Franchisees and facilitated by a senior FocalPoint executive and representatives of Brian Tracy International. Each call not only enables Master Franchisees to learn about the latest developments in the FocalPoint franchise system, but to also brainstorm new ideas and suggestions to facilitate the growth of the FocalPoint franchise system and suggest ways to improve the system. The focus of each call is on continuous learning and the formation of solid best-practices providing each Master Franchisee the ability to grow their businesses and be successful, as well as to assist Master Franchisees in helping the Business Coaching Franchisees in their territories to maximize their success.

Monthly Status Report
To support our Master and Business Coaching Franchisees to maintain the health and growth of each of their franchise businesses, FocalPoint uses relevant data reported by franchisees each month. Each month, Business Coaching Franchisees submit a Status Report to their Master Franchisees for evaluation. Likewise, Master Franchisees submit similar reports to FocalPoint corporate personnel. Using these reports, Master Franchisees and FocalPoint staff can collaborate with franchisees to develop and implement strategies for continual business improvement.

Quarterly Plan
Effective plans are the keys to any successful endeavor. So, every three months, Business Coaching Franchisees complete a plan of activities for the next quarter. These plans are reviewed by the applicable Master Franchise, who provides feedback and assists in the development and execution of these plans. FocalPoint's Quarterly Planning Process gives each franchisee a roadmap to success.

Conferences
On a yearly basis, each Master Franchise is required to facilitate at least one conference for the Business Coaching Franchisees in their territories. The purpose of these conferences is to present new FocalPoint programs and provide coaches with networking opportunities and motivation. Each conference is designed to be affordable and extremely valuable in content and training. In addition, a National FocalPoint Conference is held each year for all franchisees in the system. FocalPoint's National Conference brings the entire FocalPoint family of franchisees together, along with key members of FocalPoint and Brian Tracy International and transmits information from highly successful franchisees throughout the system, making every franchise stronger and increasing of the franchise system wide.

Innovations
FocalPoint always seeks to develop new ideas for improving the quality of services provided to franchisees and their clients. Franchisees will periodically receive news and training on new programs and marketing strategies and are encouraged to work with their Master Franchisees to further develop and execute these new innovations. FocalPoint realizes the franchisees who invest in their franchise businesses have great experience and intelligence. FocalPoint invests a great deal of time and effort to solicit ideas for system and content improvement from its franchisees – at FocalPoint, everyone in the system is a valuable partner in the system's continual improvement and success!
Why Focalpoint International?
Leveraging Brian Tracy's 30+ Years of Business Coaching Experience
FocalPoint's partner, Brian Tracy International, Inc., is a company with professional and personal development literature and audio programs ranking #1 in global sales – in fact, Brian Tracy's works have been translated into more than 17 different languages and are marketed in greater than 30 countries. Moreover, Brian Tracy has given presentations in virtually every country around the globe! In addition, having nurtured and/or rejuvenated dozens of businesses, and consulted for some of the worlds top companies, Brian Tracy earned accolades from companies spanning a wide spectrum of industries and is renowned as one of the foremost authorities on organizational, personal and business development. His clients include IBM, McDonnell Douglas, Johnson & Johnson, the Million Dollar Round Table and hundreds of other well known organizations. Brian Tracy is one of the worlds premiere consultants, speakers and authors in the area of launching organizations to higher levels of achievement by developing their key resources: business owners, leaders and professionals!